14 August 2021 | 21:00

-

22:00

Free – €30,00

The Youth Orchestra of the Benedetto Marcello Conservatory of Venice
The young talents of the Conservatory perform in the prestigious Palazzo Pisani.
Aperitif with the musicians at the end of the concert, offered by Cipriani Food.
For the first time in its centenary history, the Benedetto Marcello Conservatory of Venice opens the doors of Palazzo Pisani with the concert cycle Il Marcello Suona, designed, organized, and performed by its students.
The six concerts will be held every Saturday at 9.00 pm, from 23 July to 28 August, inside the monumental courtyards of Palazzo Pisani and in the prestigious Concert Hall located on the first floor (Piano Nobile) of the Palazzo. After each concert, the attending public can meet the young musicians during a shared convivial moment with a refreshment-aperitif offered by Cipriani Food.
Under the patronage of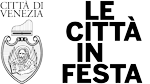 With the support of

–
Orchestra Giovanile del Conservatorio Benedetto Marcello di Venezia
prof. Giancarlo Nadai | concert master
Valentina Dal Bello | oboe
Francesco Di Giacinto | oboe
Zoe Cestaro | violin
Sebastiano Menardi | violin
Aurora Ferro | violin
–
Georg Friedrich Händel | March in D major
Joseph-Hector Fiocco | Allegro in G major for violin, strings, and b.c.
Antonio Vivaldi | Concerto for two oboes in C major, RV 534
Heinrich Schütz | Symphony
Samuel Scheidt | Symphony
Giovanni Battista Vitali | Symphony Minuetto alla Zoppa
Giuseppe Tartini |  Concerto in D major for two violins, strings, and b.c.
Jeremiah Clarke | Aria – Serenata – Prince of Denmark's March